Joi, 20 Iunie 2019 08:49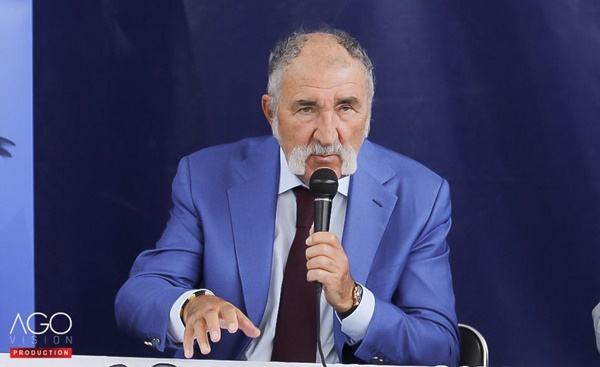 Ion Țiriac este noul președinte al Federației Române de Tenis după ce a câștigat alegerile organizate la Centrul Național de Tenis încă din primul tur. Din cele 46 de voturi valabil exprimate, Ion Țiriac a primit 32 de voturi, Marius Vecerdea a primit 11 voturi, Ion Țupa a primit trei voturi. Cel de-al patrulea candidat aflat pe buletinul de vot, Liviu Ursuleanu, nu a primit niciun vot. Cel de-al cincelea candidat, Răzvan Itu, a renunțat la candidatura la funcția de președinte înainte de începerea votării.
În partea a doua a alegerilor pentru conducerea FRT s-a trecut la vot pentru cele patru poziții de vicepreședinți. Din cele 46 de voturi exprimate, unul a fost anulat, iar după numărătoarea finală s-au aflat și numele celor patru vicepreședinți care i se vor alătura lui Ion Țiriac în Comitetul Director al FRT: George Cosac, cu 34 de voturi, Alina Cercel Tecșor, cu 28 de voturi, Răzvan Itu, de asemenea cu 28 de voturi, și Adrian Marcu, cu 23 de voturi. Printe cei care au mai primit voturi s-au numărat și Marius Vecerdea, cu 14 voturi, și Silviu Matei, cu 13 voturi.
*
Citeşte mai mult...
Joi, 23 Mai 2019 08:43
IOC EB recomandă ca boxul să-și mențină locul în programul sportiv Tokyo 2020 și suspendarea recunoașterii AIBA
Box este stabilit să-și mențină locul în programul sportiv al Jocurilor Olimpice Tokyo 2020, însă recunoașterea Asociației Internaționale de Box (AIBA) de către Comitetul Olimpic Internațional (CIO) ar trebui suspendată.
Această recomandare a fost prezentată astăzi de Comitetul executiv al CIE (EB) la sesiunea IOC din 24-26 iunie 2019 din Lausanne.
Citeşte mai mult...
Sâmbătă, 04 Mai 2019 18:40
General Information
The 134th IOC Session will take decisions on key policy issues and in areas under its authority, including the election of the host city for the Olympic Winter Games 2026 on Monday 24 June.
The Candidate Cities for the Olympic Winter Games 2026 are Stockholm-Åre (Sweden) and Milan-Cortina (Italy)*.
The EB meetings will take place at the Lausanne Palace Hotel. The IOC Session, the presentations of the Candidate Cities, the vote to elect the host city, the host city announcement ceremony, and the signature of the Host City Contract will all take place at the SwissTech Convention Centre.
Citeşte mai mult...
Vineri, 26 Aprilie 2019 11:00
Federatia Romana de Tenis condusa de George Cosac a parafat contractul cu proprietarul licenţei, astfel că Bucureştiul va găzdui la Arenele BNR, între 13-21 iulie, cea de a şasea ediţie a turneului WTA BRD Bucharest Open.
După cinci ani spectaculoşi, în care a adunat la Bucureşti o bună parte din elita tenisului mondial, Federaţia Română de Tenis a fost la un pas să rămână fără turneul WTA de la Bucureşti, proprietarul licenţei anunţând că doreşte să-l mute la Budapesta. După unele probleme apărute pe axa "WTA – Federaţia de Tenis din Ungaria", forul de la Bucureşti a reluat discuţiile cu proprietarul licenţei şi a reuşit să păstreze turneul în capitala României. "Este adevărat, am semnat contractul. Turneul se va desfăşura la Arenele BNR, între 13-21 iulie", a confirmat George Cosac pentru ProSport
*
Citeşte mai mult...
Joi, 25 Aprilie 2019 12:46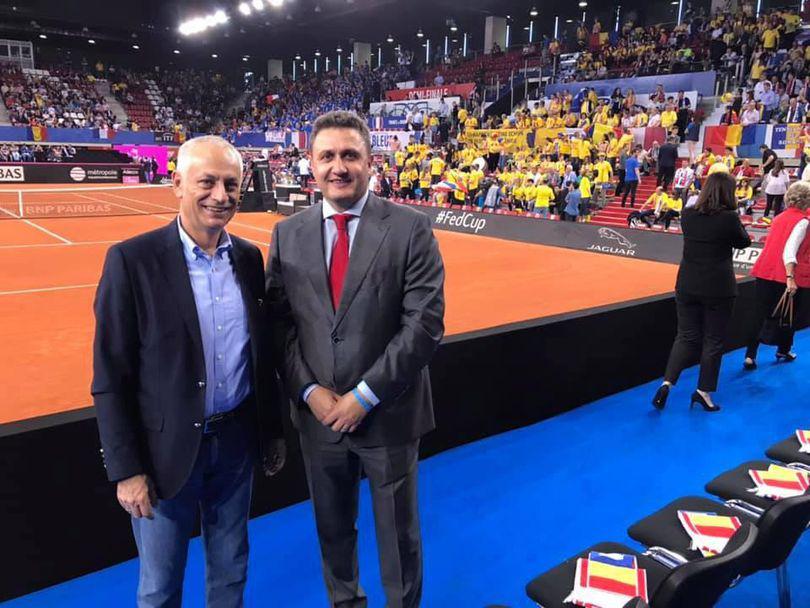 Conform libertatea.ro Libertatea a intrat în posesia fotografiei care îl leagă pe reprezentantul ministerului, directorul Florin Jianu, de președintele FRT, George Cosac. Imaginea surprinsă la Rouen, cu ocazia meciului de Fed Cup Franța - România, a ajuns azi în minister și a iscat scandal.
După ce ziarul a publicat sâmbătă, pe site, informația că MTS are doi oameni la Rouen, a doua zi, după victoria Simonei Halep cu Caroline Garcia, Jianu a decis să "iasă de la cutie" și să se afișeze cu George Cosac. Libertatea a mai scris că situația juridică a ministerului nu-i permite lui Cosac să reprezinte federația în competițiile oficiale, potrivit unor decizii definite ale instanțelor de judecată. Cu alte cuvinte, România nu avea aviz de reprezentative la întâlnirea de Fed Cup cu Franța. Pentru a intra în legalitate, FRT a apelat la ajutorul MTS, ca să poată folosi numele, imnul, stema și steagul (există o lege care obligă federațiile să ceară de la minister, înaintea întrecerilor internaționale, acceptul de a folosi însemnele țării). Deși statul a oprit finanțarea la tenis, din pricina ilegalităților identificate de instanțe, ministerul a avut doi oameni la dineul oficial, de joi seară. Astfel, la Rouen au ajuns Daniel George Jianu, director general în cadrul Departamentului Sport din MTS, și consilierul ministrului, Andrei Nourescu, .........................................."
Citeşte mai mult...
Pagina 1 din 100